Diaspora Torrents
Simply download the torrent file for your platform and open in any compatible torrent program. If you don't have a torrent program, you can try µTorrent for Windows and Mac, or Transmission for Mac and Linux. After downloading, please leave your torrent program running so that others can also download from you.
Direct downloads
If you can't download via torrent, use the links below.
Known Issues
Due to the size of the Windows installer it may take a long time for the installer to actually start. This may last several minutes (up to five minutes in some instances). There are reports that virus checkers may extend this delay so you may wish to turn them off during the installation process. This problem hasn't been reported yet for Mac but might exist there too.
Multiplayer is currently very much in beta. Also, in order to enhance the eventual multiplayer experience, the team decided not to finalise the balance between ships. Feedback from players is very welcome. The true multiplayer experience will be available in the next release. Till then, if you wish to experiment, here's how to get started.
Some Windows users are reporting issues with joystick detection in-game. Going to Control Panel -> Game Controllers and selecting "Advanced" then setting your controller as the preferred device, has been reported to fix this.
If you have other problems, we have a tech support forum.
Diaspora Wallpaper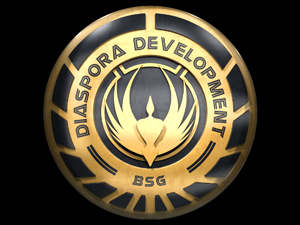 1024x768 | 1280x1024 | 1600x1200 | 1440x900 | 1680x1050 | 1920x1200